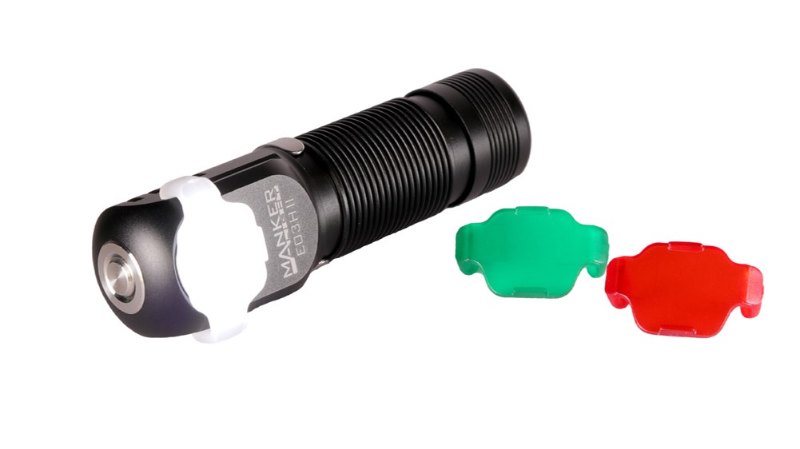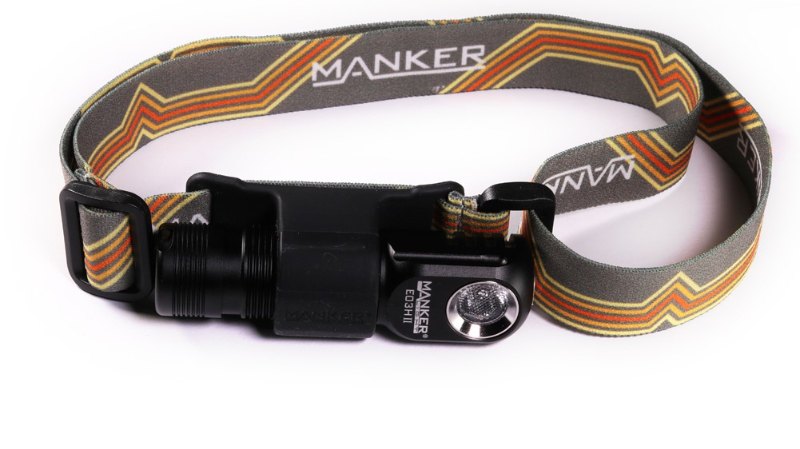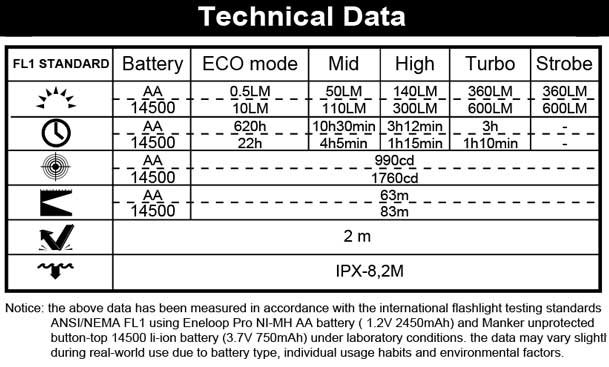 600 流明 ● MANKER E03H II 14500 頭燈 ● SST20 ● 218
Model:
香港 , 澳門
貨品描述
#218 倉 0 灣仔店 0 深水埗店 1
600 流明 ● MANKER E03H II 14500 頭燈 ● SST20
官網數據:
http://www.mankerlight.com/manker-e03h-ii-14500-aa-headlamp-600-lumen-angle-flashlight-with-headband-removable-filters-reversible-clip/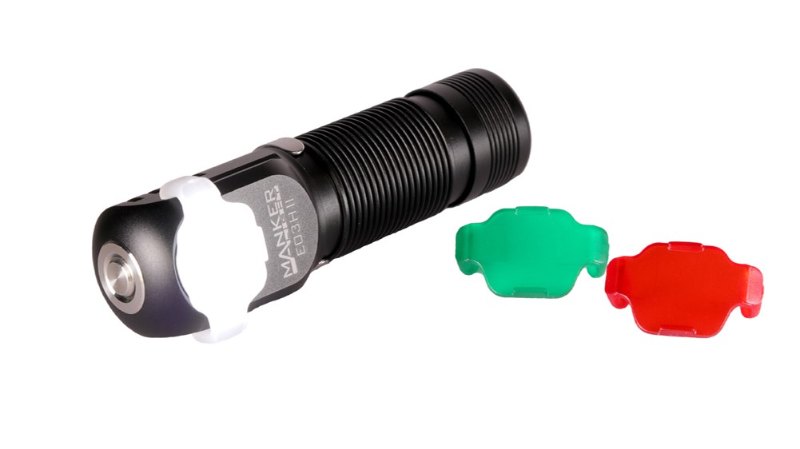 Product Description
Features:
1. Incredibly Compact and Lightweight but Powerful and long runtime 14500 / AA Headlamp - Weighing only 2.05oz (with headband), but adopts high performance Luminus SST20 LED, Maximum 600 (360) Lumens oupput, Maximum 22 (620) hours runtime, only need to be powered by 1x 14500 / AA battery.
2. Multi-purpose Angle Flashlight with Adjustable Elastic Headband & Magnetic Tail Cap & Reversible Clip - offers us an almost infinite possibilities of use: it is comfortable , wear on the head, in the hand, clips onto brim of hat for hands free use, on a table, hooked in trouser pocket, shirt, a cinch Of a backpack, side of the car, refrigerator, any small field house, tent...
3. Extremely Durable & Waterproof IPX-8 & 2 Meters Drop Test- The aluminum housing with premium type-III military spec anodizing helps make the light extremely durable and abrasion resistant. PMMA high transmittance TIR optical lens is waterproof silicone o-ring and stainless steel bezel sealed. tact switch is waterproof silicone gasket, sainless steel button cap and stainless steel bezel pealed. IPX8 water-resistant; 2 meter impact resistance tested.
4. User-friendly One Button Interface - Easy & simple operation.
5. New Lock out & ECO mode Setting - Lock out can prevent the light accidental turn on. When in ECO mode, you can hold button to adjust 5-6 different stable,no flicker moonlights.
6. Removable sliding Filters - White / red / green colors. it make light more smooth.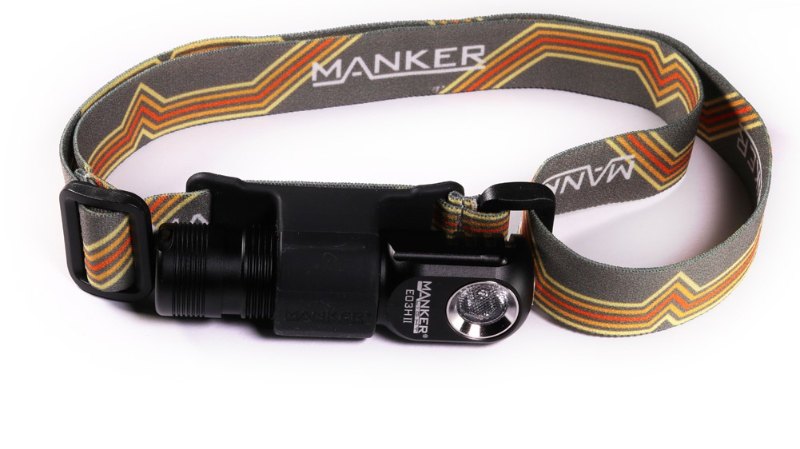 Specification:
Emitter: 1 x Luminus SST20 (Cool White: 6500K, Neutral White: 4000K CRI>95)
Power by: 1 x AA or 14500 battery (Battery NOT Included)
Working Voltage: 0.7-1.8V, 3.0-4.3V
Max Output: 360 lumens (using an Eneloop Pro AA NiMH battery)
600 lumens (using a 14500 li-ion battery)
Max Beam Intensity: 990 cd (using an Eneloop Pro AA NiMH battery)
1760 cd (using a 14500 li-ion battery)
Max Beam Distance: 63 meters (using an Eneloop Pro AA NiMH battery)
83 meters (using a 14500 li-ion battery)
Max run time: 620 hours (using an Eneloop Pro AA NiMH battery)
Driver: Most efficiency constant current circuit (using a AA battery)
Protection: Reverse polarity protection, overdischarge protection
Lock-out Mode: Prevents accidental activation
ECO Mode: Multiple user selectable levels
Material: Aircraft-grade aluminum body
Surface Treatment: Premium type-III hard-anodized anti-abrasive finish
Button Cap: Stainless steel
Clip: Stainless steel reversible clip
Filter: Removable, sliding
Tail-cap: Magnetic
Tail-stand Capability: Yes
Lens: PMMA high transmittance TIR optical lens
Waterproof Standard: IPX-8 (up to 2 meters)
Impact Resistance: 2 meters
Size: 78.56mm length x 23.15mm head dia. x 19.5mm body dia.
Weight: 35.9gram (without headband, without battery)
Accessories: Spare o-ring, stainless steel clip, headband, lanyard, filters (white, red, green)
Output & runtime (using an Eneloop PRO AA NiMH battery)
ECO mode 0.5 lumens 620 hours
Middle 50 lumens 10 hours 30 minutes
High 140 lumens 3 hours 12 minutes
Turbo 360 lumens 3 hours
Strobe 360 lumens -
Output & runtime (using a 14500 li-ion battery)
Moonlight 10 lumens 22 hours
Middle 110 lumens 4 hours 5 minutes
High 300 lumens 1 hours 15 minutes
Turbo 600 lumens 1 hours 10 minutes
Strobe 600 lumens -
Battery Option
Technical Data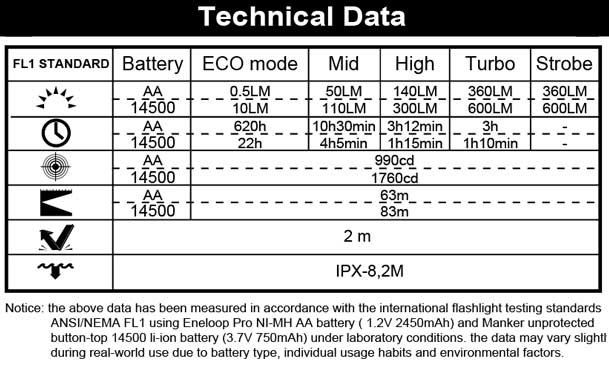 Operating Instructions
Remark:
1. Memory function stores the general mode last used (Medium or High).
2. While OFF, 4 quick clicks will lock-out the flashlight.
While locked-out, 4 quick clicks again will unlock.
3. When using a AA battery, there have 6 lower brightness levels (0. 1-15lm) to choose from. (Ratio Error: ± 20% output, while using different battery)
When using a 14500 battery, there will be 5 levels (10-56lm) (Ratio Error: ± 10% output, while using different battery)
*** Kindly note: This item have NOT included any battery. We high recommend you to choose Eneloop Pro AA NiMH battery or Soshine button-top 14500 li-ion battery. If you would like to use other brand AAA / 14500 battery, please make sure it have 50-51mm in total length, its button-top have ≥ 1.2mm in length. ***